Best 5 Experiences in Turkey: Make the Most of Your Visit
One of the most frequented tourist destinations in the world, there are a myriad of thrilling experiences in Turkey for locals and foreigners alike. Whether you like the outdoors, historical sights, or exotic eateries, this beautiful country has a lot to offer. We have picked the most quintessential activities in Turkey recommended by locals and experts.
Let's take a look at the five top experiences in Turkey for you to enjoy:

Tour the old city in Istanbul
One of the most typical experiences in Turkey that tourists do in Istanbul is a tour of all the historical sites around the Sultanahmet area. There is a reason why millions of tourists frequent this ancient neighborhood, and it has more than meets the eye. Much of the architecture here has been carefully renovated, and it impressively preserves its original structure with a few exceptions. Within walking distance of each other, the Blue Mosque, Hagia Sophia, Basilica Cistern, Sultanahmet Mosque, Topkapı Palace, Gülhane Park and the Grand Bazaar are all available to visit during the day.
Although this popular area is not often frequented by locals, it is a must-see for anyone who is new in Istanbul. As many of these historic remains date back to the Eastern Roman (Byzantine) Empire – founded around 330 AD – the region is not only a great photo op, but also a rich avenue for learning about history. Curious about having an old city tour put together for you? Let us know and we'll point you in the right direction.

Take a Turkish coffee break by the Bosphorus
Whether you are a visitor or a local, venturing out to Istanbul's many cafes and eateries is a delight for the soul, especially if it's accompanied by a scenic view of the Bosphorus Strait – the body of water that connects Asia and Europe. Crossing the Bosphorus by boat, bridge, or underwater train is a short but essential adventure for anyone who lives in or visits Istanbul.
Lined up along the Bosphorus on both the Asian and the European sides, coffee shops, restaurants and even nightclubs offer the best ambiance that the city has to offer. For an additional element of pleasure, grab your Turkish coffee during sunset at Arnavutköy, Kuruçeşme, Bebek, Ortaköy, or Karaköy – and watch the breathtaking view of the megacity as the city lights turn on. (Check out our many articles over at Yabangee for some insights into spots we recommend.)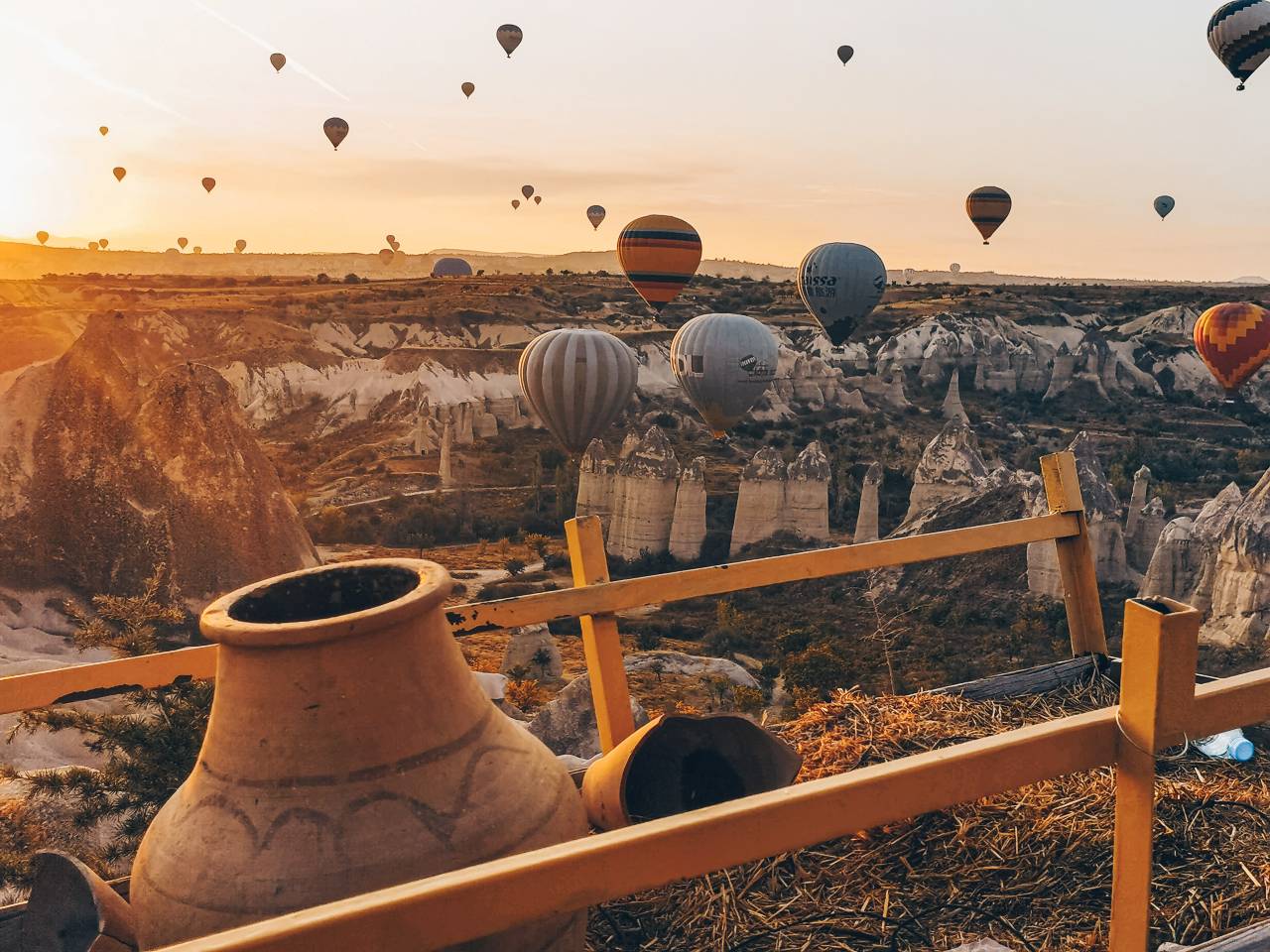 Fly in a hot air balloon in Cappadocia
Cappadocia is a region in central Turkey with many ancient structures, both natural and artificial. It is a IUGS geological heritage site, with the most identifying feature being hoodoos, or 'fairy chimneys' as the locals call them. Dating all the way back to the 6th century BC, the inhabitants of this region have carved their houses and places of worship into the volcanic rock formations, creating a valley with idiosyncratic structures.
Perhaps the best way (and among the most popular experiences in Turkey) to view the Göreme valley is a hot air balloon ride during sunrise. A wide range of options are available for balloon tours and they all follow safety precautions, only offering the tours if the weather conditions are permissible. However, other options also exist for people with a fear of heights. Quad bike tours, horse-back riding or even camel-riding are all part of the scenery's go-to activities.

Tour the blue waters of Southern Turkey
One of the most well-known experiences in Turkey – its Southern and Southwestern coasts are hosts to millions of visitors every year from all around the globe. Particularly in Izmir, Muğla and Antalya provinces, places like Bodrum, Ceşme, Kaş, Fethiye, and Marmaris are bustling with tourists in the hot summer months. City centers in these vacation spots are often equipped with all the entertainment imaginable, and the beaches are picturesque.
Visiting all the different beaches by land might be a less than ideal option, especially with the wide variety of affordable private and group boat tours. Instead, take a boat trip to the nearby islands and surrounding beaches to dive in the bluest and clearest of waters. If you need help arranging such a tour, don't hesitate to reach out.

Explore the culture and cuisine of Eastern Turkey
Just like other parts of the country, the Eastern region of Turkey is rich in history, culture and food. As each region has its own culture, history, architecture, traditions and dialects, the East also has a distinct character to it. This region is home to a few of the most influential foods in Turkish cuisine. Kebap, içli köfte, börek, dolma, tantuni, and baklava each have their own – and arguably the best – versions in this region, due to the regional techniques and spices used in the process.
Southeastern Turkish cuisine has a heavy Middle-Eastern touch to it and these dishes have spread throughout the whole country, and even the world. Best experienced in the Spring or Fall, combined tour programs are available by bus or train to Mardin, Gaziantep, Şanliurfa, Hatay ,and Adana that offer a taste of the eclectic beauty of Southeastern Turkey.
These are just a few of the many pleasures of being in Turkey, the sixth most visited country in the world as of 2019. Although it is virtually impossible to fit all the different things you can experience, these options are a starting guide for first-timers and new-comers. Of course, living in this country will allow you to fit as many travels as you want in your journey. To start your journey with Settle Turkey, get in touch with one of our experts.